EBENEZER KWEKU ARTHUR hails from Biriwa in Central Region, born and raised in Tema.
He went to basic school at Creator JSS, pursued High School Education at Ghana National College – Capecoast. He later pursued a Degree in IT at Methodist University College. Eben has vast experience in Information System and Softwares.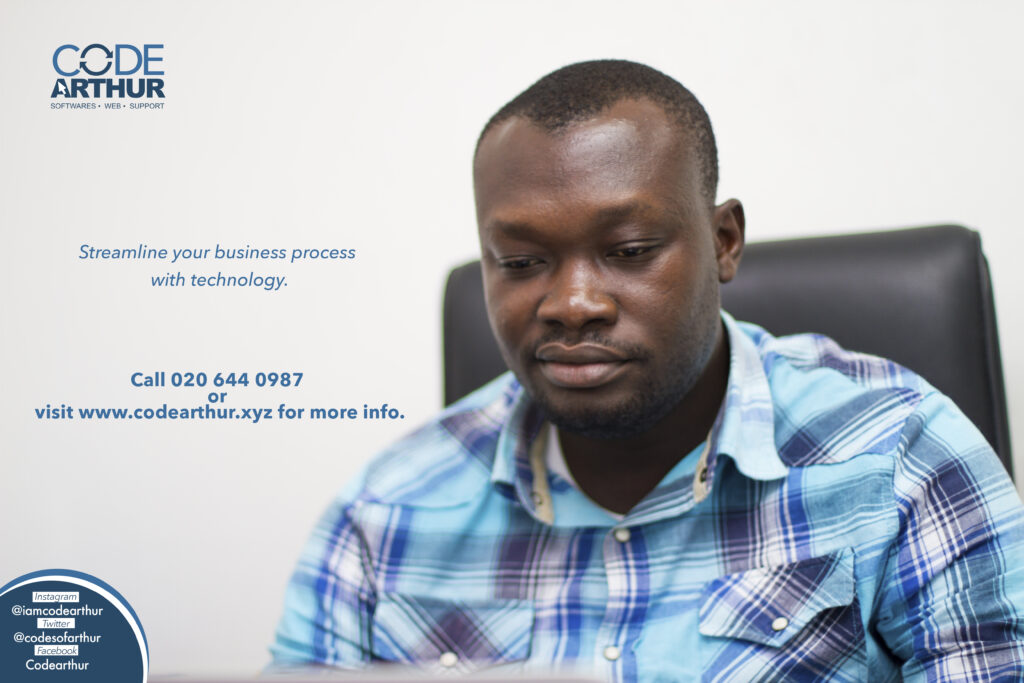 He formed CODEARTHUR to provide IT Solutions to businesses to help them streamline their process.Founded in February 2015, CODEARTHUR employs end-to-end technology solutions customized to meet the business needs of each of our clients."Our extensive experience in the ever-changing technology environment enables our clients to focus on managing their businesses while we plan, implement, optimize and maintain their IT solutions," he told Kasaspafmonline.com.


Now more than ever it's important for your business to have an IT solutions partner who can help you accomplish more of your goals, achieve new efficiencies and realize cost savings every step of the way.Whether your company needs fast access to essential technologies or the support of technical experts for the strategic planning and deployment of solutions, CodeArthur can help.
CORE SERVICES
SUPPORT
Off-Site (Remote) Support
On-Site Support
Training
WEB AND MOBILE DEVELOPMENT
Web Portals
Websites / Mobile Apps.
CMS Applications
SOFTWARES
Point-of-Sales Software (MTELLER)
Business Applications (Suites)
PayRoll and Inventory Management
Call 020 64400987 or visit www.codearthur.xyz for more info.